By Madeleine Hubbard
January 4th, 2022
Joe Rogan has more than three times as many people per episode as his next greatest competitor "Tucker Carlson Tonight" on Fox News, according to newly released data.
"The Joe Rogan Experience" reaches a reported average of 11 million people per podcast episode.
Fox News reigns as the most-watched cable news network, taking ten of the top viewership 15 spots. The top cable news spot goes to Carlson with 3.21 million viewers on average, Adweek reported on Nielsen data Monday.
Conservative reporter Luke Rudkowski pointed out Rogan's larger audience using 2021 Quarter 3 ratings. The most recent rating data from Adweek is slightly off from Q3, but overall remains the same.
"This is why they are afraid of Rogan," Rudkowski tweeted with a graph comparing the most popular cable news shows.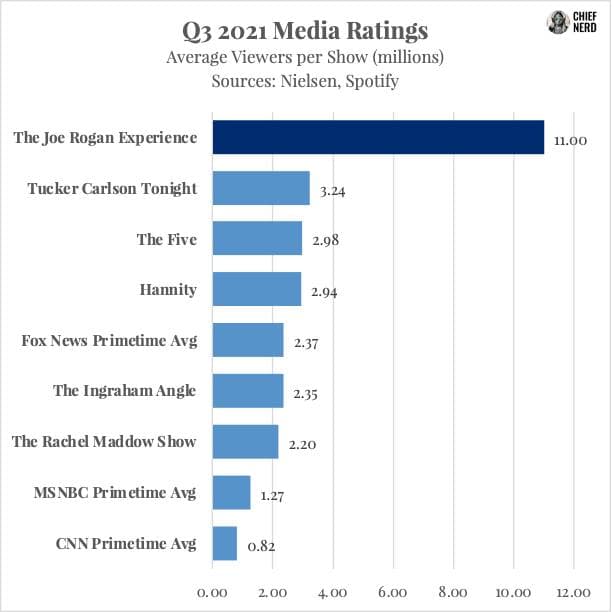 MSNBC's primetime viewership trails behind with an average of 1.53 million primetime viewers.
"Joe Rogan has completely disrupted the legacy media," financial commentator Anthony Pompliano tweeted with a picture of Rudkowski's graph. "Right now, Joe Rogan is the most dangerous man alive in the intellectual arena. In terms, that he is the most genuine pursuer of truth that has a big audience – therefore people will keep listening," he later said on "The Best Business Show."
"That's because he doesn't lie. Or talk down to his audience. Or manipulate for his own narrow advantage," psychologist Dr. Jordan Peterson commented on Rogan's ratings.
Journalist Glenn Greenwald tweeted, "The more employees of large media corporations attack Joe Rogan, the more his audience grows. The two individuals with the largest audiences happen to be the two people most hated by corporate media because they can't be controlled or ordered around."
Others used the original graphic to ridicule Rogan. HuffPo correspondent S.V. Dáte tweeted, "Great. Maybe Joe Rogan can start covering statehouses and open some overseas bureaus."