by Ryan DeLarme
July 17th, 2019
There is a veritable avalanche of information and speculation coming out on the Jeffery Epstein case, some aspects receiving more attention than others. The subject matter is pretty heavy, there are certain details that you wouldn't want to see aired on the evening news when children are present. It is pertinent, however, that the Epstein case reach as many folks as possible who are willing to digest it as the potential implications are quite staggering.
The Daily Beast broke the story on July 6th that "Billionaire pedophile Jeffrey Epstein was arrested for allegedly sex trafficking dozens of minors in New York and Florida between 2002 and 2005…" His arrest by the FBI-NYPD's Crimes Against Children Task Force came nearly 12 years after the 66-year-old financier essentially got a slap on the wrist for sexually exploiting dozens of underage girls, paying them cash for "massages" and then molesting or sexually abusing them in his Upper East Side mansion or his residence in Palm Beach.
https://www.thedailybeast.com/jeffrey-epstein-arrested-for-sex-trafficking-of-minors-source?ref=home
Epstein will be charged with one count of sex trafficking of minors and one count of conspiracy to engage in sex trafficking of minors—which could put him away for a maximum of 45 years. The case is being handled by the Public Corruption Unit of the Southern District of New York, with assistance from the district's human-trafficking officials and the FBI.
This case is essentially a monstrous bag of cats that could send shockwaves through the entire country, maybe even the world. In the days following the arrest an incredible amount of information related to Epstein began to surface, from the horror stories of a Victoria's Secret model to charges of Human trafficking and pedophilia. It is worth noting that a large variety of household names have been shown to have had close, personal ties to Epstein; ranging from Hollywood celebrities Chris Tucker and Kevin Spacey to political figures like Donald Trump and Bill Clinton, to name a very small few.
Jeffery Epstein's "little black book" has been published online for several years now and includes the names of many celebrities, governors, and philanthropists. Among those listed were Alan Dershowitz, Ehud Barak, Peter Soros and Courtney Love. [It is important to note that names appearing in a book does not necessarily denote being complicit in any crime.]

Not His First Rodeo

Jeffery Epstein's troubles first began in 05' when a woman contacted Florida's Palm Beach Police Department and alleged that her 14-year-old stepdaughter had been taken to Epstein's mansion by an older girl, where she was allegedly paid $300 to strip and massage Epstein. Police then began an 11-month undercover investigation of Epstein, followed by a search of his home. It was around this time that the FBI also became involved in the investigation.
The International Business Times reported that papers filed in a 2006 lawsuit alleged that Epstein installed concealed cameras in numerous places on his property to record sexual activity with underage girls by prominent people for criminal purposes, such as blackmail. The FBI received accounts from 36 girls whose allegations of molestation by Epstein included overlapping details. In May 2006, Palm Beach police filed a probable cause affidavit saying that Epstein should be charged with four counts of unlawful sex with minors and one molestation count.
Epstein's team of defense lawyers proved to be quite formidable, and included Roy Black, who defended William Kennedy Smith, Gerald Lefcourt, Alan Dershowitz, and in 2007, was the Special Prosecutor of Bill Clinton. The FBI investigation resulted in a 53-page federal grand jury indictment. Alexander Acosta, then the United States Attorney for the Southern District of Florida, agreed to a plea deal to grant immunity from all federal criminal charges to Epstein, along with four named co-conspirators and any unnamed "potential co-conspirators".
According to the Miami Herald, the non-prosecution agreement "essentially shut down an ongoing FBI probe into whether there were more victims and other powerful people who took part in Epstein's sex crimes." At the time, this halted the investigation and sealed the indictment. The Miami Herald states: "Acosta agreed, despite a federal law to the contrary, that the deal would be kept from the victims."
For a very long time it seemed as if justice would never be served, there are many who suspect justice will be averted once again, however, The U.S. Attorney's Office for the Southern District of New York is prosecuting Epstein, and they have an impeccable track record. They win more than 90 percent of the cases that go to trial, so Epstein has plenty of reason to be shaking in his sex-boots.
Epstein "belonged to intelligence"
Acosta also claimed he was told that Epstein "Belonged to intelligence" that he was "above his pay grade" and to "leave it alone", which is why he was allowed to escape serious repercussions. Naturally this lead to reporting on Epstein's alleged intelligence connections, Acosta was recently asked if he knew about these reports during a press conference to which he responded "… I would hesitate to take this reporting as fact." In other words, he's not quite denying the allegations while completely ignoring what he had previously claimed in relation to the 2008 non prosecution agreement. Acosta has since resigned as Labor Secretary amid controversy over how he handled the case a decade prior.
So the question remains, if Epstein is connected to intelligence then which agency is he involved with exactly? This is an important question and could possibly explain why he was recording the sexual activity of prominent figures for blackmail purposes. It's plausible that Epstein was sharing some information with the FBI —many criminals do so to buy themselves insurance— but it has been suggested that his connections are more likely to non-american intelligence. It's safe to say that a sex trafficking ring centered on minors, involving numerous global VIPs in compromising situations, would be of high interest to quite a few intelligence services.

https://stillnessinthestorm.com/2019/07/the-mainstream-is-finally-admitting-epsteins-intelligence-connections/
Ghislaine Maxwell, Epstein's Alleged Madam
Ghislaine Maxwell, the British heiress and socialite, has been Epstein's close friend and business partner for decades. She has been accused by at least three women of procuring and training young girls to perform massages and sexual acts on Epstein and his associates.
What do we know about lady Ghislain? Her father was publisher Robert Maxwell – who himself faced accusations of being a Mossad double agent and a "bad character" who was "almost certainly financed by Russia," according to the British Foreign Office. Robert Maxwell died in 1991 when he fell from his yacht, the Lady Ghislaine – however the circumstances surrounding his demise have been rife with speculation (including that it was a Mossad assassination).
Maxwell was also accused by alleged Epstein victim Virginia Giuffre of recruiting the then-15-year-old into sexual services while she was working as a towel girl at President Trump's Mar-a-Lago club.

"Giuffre asserts in her complaint that Maxwell, the sole defendant in the suit and the daughter of late publishing magnate Robert Maxwell, routinely recruited underaged girls for Epstein and was doing so when she approached the $9-an-hour locker room attendant at Mar-a-Lago in 1999 about giving massages to the wealthy investment banker… Giuffre alleges that Maxwell ultimately trained her in how to give "massages" to Epstein that involved sex acts and, essentially, prostitution. When Maxwell publicly denied the allegations and called Giuffre a liar in 2015, that gave her the opening to head to federal court and file the defamation suit now headed for trial." –Politico

Maxwell was accused in a 2014 court filing of being a "co-conspirator in Epstein's sexual abuse" and of taking "numerous sexually explicit pictures of underage girls involved in sexual activities," which included Giuffre. Maxwell hasn't been charged in connection with any of Epstein's activities, however more information on their relationship is expected to be revealed in the coming weeks. Prior to Epstein's arrest, a federal appeals court in New York ordered the unsealing of up to 2,000 pages of court documents from a 2017 lawsuit against Maxwell – a decision her attorney says they will challenge.

The Victoria's Secret Connection

One of Epstein's biggest known clients was Leslie Wexner, chairman and CEO of the L Brands corporation (formerly Limited Brands) and owner of Victoria's Secret. Soon after meeting Wexner in 1986, Epstein became his financial adviser and served as his "charge d'affaires" in business dealings. By 1995, Epstein was a director of the Wexner Foundation and Wexner Heritage Foundation. He was also the president of Wexner's Property, which developed the town of New Albany outside of Columbus, Ohio where Wexner lived. Although never employed by L Brands, he corresponded frequently with the company executives. He also often attended many of the Victoria's Secret fashion shows, and hosted models at his New York City home, and even helped aspiring models get work with the company.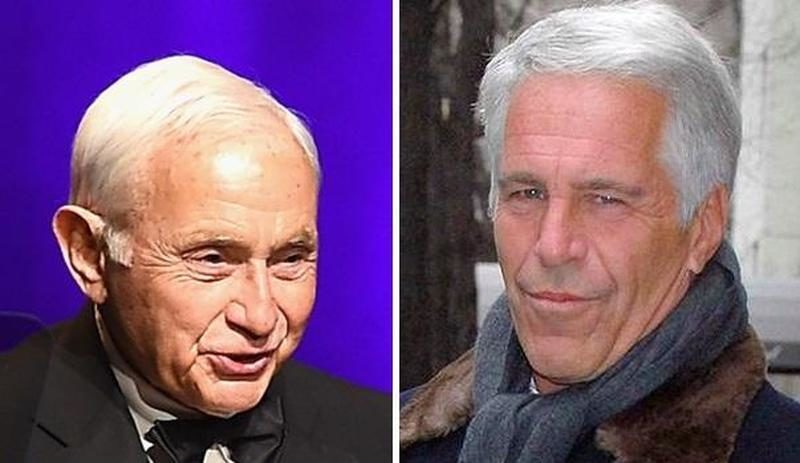 Epstein had quite the casting couch going on in his Manhattan mansion, according to the New York Post. They recently ran a story about Italian model Elisabetta Tai, who claims Epstein tried to take advantage of the aspiring Victoria's Secret model in 2004 after she was promised that a meeting with a 'very important' man could land her a gig with the apparel company.

"'He told me this is one of the most important people in modeling,' Tai told The Post. 'He said that this man is in charge of Victoria's Secret and he's going to change your life.'"
"'I rang the doorbell of this incredible mansion, and a butler answered the door," said Tai, who hails from Padova, a small town near Venice. "It was astonishing. It was a very beautiful house, and I saw about five models walking around as soon as I walked in. I was so excited.'"

"Tai said she was greeted by a woman with 'short black hair' who showed her into Epstein's office. She doesn't remember the woman's name, although when The Post showed her a photograph of Ghislaine Maxwell, Epstein's gal pal, she confirmed that she looked like the same woman who met her at Epstein's mansion… The woman with the short hair introduced Tai to Epstein, who was dressed casually in a shirt and jeans, she said. As Epstein started to ask her questions about her background, she noticed a massage table near his desk."
"She said she didn't think anything of it, and reached for her portfolio to show Epstein her previous modeling work in Italy. Tai had done a few modeling jobs in her native country, 'but nothing big, nothing like I imagined I could do in America,' she told The Post."
"As Tai talked about her experience in halting English, she said Epstein moved to the massage table and began to remove his clothes."
"'I thought he was preparing to have a massage, and that someone was about to come in to the room and give him a massage,' she said. But Tai said she panicked when Epstein lay down naked on the table and told her to approach. He then handed her a vibrator, she said.
'I froze,' she said. 'I didn't know what to do.'
'I just grabbed the vibrator and threw it at his head,' she said.
'I mean, I don't know where it landed, I just blacked out and then I ran as fast as I could out of the room.'
She was so frightened, she didn't know where to turn to find the front door in the massive house. At one point, she said, she encountered the woman with the short black hair, who grabbed her and asked her what she was doing.
'She told me that I couldn't just leave,' said Tai. 'She said that this man is important, that he is a friend of President Clinton.'
Tai never told her booker what had happened at Epstein's mansion.
"I was too scared to tell anyone,' she said. "I was too shy and scared that someone would come after me to blackmail me or maybe worse."
The "Lolita Express"

Epstein's alleged sex trafficking and serial sexual assault was enabled by a fleet of private planes. While private Gulfstream jets are considered standard issue for billionaires, Epstein sought something grander. In addition to a black Gulfstream, private helicopter and twin-engine Cessna 421, Epstein also owns a Boeing 727-200 a passenger jet with a seating capacity of nearly 200, modified for private use, including a Bloomberg terminal that lets him conduct much of his finance work while airborne. Locals dubbed Epstein's 727 the "Lolita Express" due to the frequent arrival of apparently underage women to Little Saint James, a nod to the Vladimir Nabokov novel about a middle-aged literature professor who justifies the repeated rape and sexual assault of a 12-year-old girl.
In 2017 a heated twitter exchange took place between Clinton aide Nick Merrill and former secret service agent Dan Bongino, who threatened to reveal details about Bill Clinton's 26 documented trips aboard the notorious Lolita Express. Epstein allegedly installed beds in his custom jet, and also purportedly filmed powerful men during romps with underage girls to obtain materials for blackmail.
An article by the now defunct Gawker titled "Flight Logs Put Clinton, Dershowitz on Pedophile Billionaire's Sex Jet" added to speculation about Clinton's troubling relationship with the convicted sex offender.
"Bill Clinton took repeated trips on the " Lolita Express"—the private passenger jet owned by billionaire pedophile Jeffrey Epstein—with an actress in softcore porn movies whose name appears in Epstein's address book under an entry for "massages," according to flight logbooks obtained by Gawker and published today for the first time. The logs also show that Clinton shared more than a dozen flights with a woman who federal prosecutors believe procured underage girls to sexually service Epstein and his friends and acted as a "potential co-conspirator" in his crimes.
Epstein's predatory past, and his now-inconvenient relationships with a Who's Who of the Davos set, hit the front pages again earlier this month when one of his victims, Virginia Roberts, claimed in a federal court filing that Epstein recruited her as a "sex slave" at the age of 15 and "sexually trafficked [her] to politically-connected and financially-powerful people," including Prince Andrew and attorney Alan Dershowitz. (The latter, the filing claimed, had sex with the victim "on private planes"; Dershowitz vigorously denies the charges, as does Prince Andrew.)
Two female associates of Epstein—the socialite Ghislaine Maxwell and Epstein's former assistant Sarah Kellen—have been repeatedly accused in court filings of acting as pimps for him, recruiting and grooming young girls into their network of child sex workers, and frequently participating in sex acts with them. Kellen in particular was believed by detectives in the Palm Beach Police Department, which was the first to start unraveling the operation, to be so deeply involved in the enterprise that they prepared a warrant for her arrest as an accessory to molestation and sex with minors. In the end, she was never arrested or charged, and federal prosecutors granted her immunity in a 2007 non-prosecution agreement that described her as a "potential co-conspirator" in sex trafficking.
Maxwell, the daughter of the late media mogul Robert Maxwell, has been accused by Roberts of photographing Epstein's victims "in sexually explicit poses and [keeping] the child pornography on her computer," and "engag[ing] in lesbian sex with the underage females she procured for Epstein." She has denied the allegations in the past.
Clinton shared Epstein's plane with Kellen and Maxwell on at least 11 flights in 2002 and 2003—before any of the allegations against them became public—according to the pilots' logbooks, which have surfaced in civil litigation surrounding Epstein's crimes. In January 2002, for instance, Clinton, his aide Doug Band, and Clinton's Secret Service detail are listed on a flight from Japan to Hong Kong with Epstein, Maxwell, Kellen, and two women described only as "Janice" and "Jessica." One month later, records show, Clinton hopped a ride from Miami to Westchester on a flight that also included Epstein, Maxwell, Kellen, and a woman described only as "one female."
In 2002, as New York reported previously, Clinton recruited Epstein to make his plane available for a week-long anti-poverty and anti-AIDS tour of Africa with Kevin Spacey, Chris Tucker, billionaire Ron Burkle, Clinton confidant Gayle Smith (who now serves on Barack Obama's National Security Council), and others. The logs from that trip show that Maxwell, Kellen, and a woman named Chauntae Davies joined the entourage for five days…
That last name, Chauntae Davies, emerged elsewhere in papers unearthed by the various investigations into Epstein's sex ring: his little black book. Davies is one of 27 women listed in the book under an entry for "Massage- California," one of six lists of massage girls Epstein kept in various locales, with a total of 160 names around the globe, many of them underage victims.
Little St. James Island
Epstein's main residence in the US Virgin Islands has long been the subject of rumors and speculation, and has gained a handful of sinister nicknames over the years like "Orgy Island," "Pedophile Island," and "Island of Sin," Though according to Bloomberg reports, Epstein preferred the nickname "Little St. Jeff's."
He purchased the island in 1998, for $7.95 million, and has since ordered quite a bit of construction, per Bloomberg: He has carved roads, planted towering palm trees, and built a massive stone mansion, which is surrounded by smaller buildings and a helicopter pad. Though not many details have been reported about the interior of the main residence, a former employee said that Epstein had two offices, which no one but the maid was allowed to enter, where he kept security boxes.
There's also what appears to be a mysterious blue-striped "temple", which previously featured a golden dome and ornate statues of owls. Independent researchers, investigative journalists and "digital soldiers" have made many claims about the alleged "temple", suggesting that the structure is either a secluded setting for Epstein's abuse or that it concealed a hidden underground location for the same purpose. James Both, a contractor whom Insider consulted with for the story, noted that while it was possible to install an underground space or elevator, the construction would have "most likely" been documented by a vendor to ensure regular inspections. This causes one to wonder, if Jeffery Epstein can can get off the hook for molesting and trafficking minors because of his connections then why couldn't he get away with having an undocumented elevator in his private island?
According to Fox News, Epstein had a dedicated team of workers on the island who trafficked girls as young as 12 to his clients. Sarah Ransome, one of his alleged victims, said she tried to swim off the island only to be found by a search party that included Epstein and his cohort Ghislaine Maxwell. Ransome also said that they kept her passport so she couldn't leave. Though the specifics of the visits are unclear, one former employee told Bloomberg that Epstein would fly young women into St. Thomas, whom he would then ferry over to his private island via boat.

The speculation surrounding the true purpose of this island is thick. Naturally, the independent's and internet sleuths have been hard at work digging, many of which have lost faith in mainstream reporting and the justice system due to the 2008 non prosecution agreement. Recently several videos of drone footage have surfaced from different sources:

Rachel Chandler and Grim Speculation

Many unusual conclusions have been drawn and circulated, and as strange as some of these conclusions are, there appears to be a good chance that some of the claims could actually be based in reality. This is where the details surrounding one Rachel Chandler come into play.
An alleged Military Intelligence information dissemination operation has been mentioning this name in ways that have caused folks to wonder and to dig. The question "WHO IS RACHEL CHANDLER" appeared on the 8chan boards on March 20th, 2019, thus causing a multitude of suspicious observers to begin looking into the private citizen and her relationship with Epstein, her photography studio, instagram photos, connection to the Standard Hotel as well as many high profile figures.
The rumors and speculation don't end with Ray Chandler, the purpose of the island itself and Epstein's actual worth are also huge mysteries that many have commented on. A strange area of the property was obscured on Google maps by a crude, oblong looking tennis court. One example of many unusual considerations.
These are just a few examples of the provocative accusations floating around the dark corners of the internet, none of which have been proven in a court of law, but that doesn't seem to have slowed the charge. Perhaps the most provocative tidbit is an Instagram capture of what appears to be footage from a surveillance system. The Ray Chandler Instagram link is now gone. For that matter, Rachel (Ray) Chandler, a casting director, has taken her Instagram account private. The AltMedia chatter is that her Instagram and Tumblr accounts contain many disturbing images of children.
Fortunately, 8chan netizens took a screenshot of the Ray Chandler Instagram pic and some of the comments. The images are from surveillance camera footage of underground rooms.
Just the Tip of an Iceberg
Epstein's alleged crimes are heinous enough to stand on their own, but the truth is that he is only one part of a larger narrative of how a culture of entitlement becomes a cesspool and a breeding ground for despots and predators. Some might recall the "DC Madam", who was charged with operating a phone-order sex business? Her clients included thousands of White House officials, lobbyists, and Pentagon, FBI, and IRS employees, as well as prominent lawyers, none of whom were ever exposed or held accountable.
Dacher Keltner, professor of psychology at the at the University of California, Berkeley, observed in the Harvard Business Review, "While people usually gain power through traits and actions that advance the interests of others, such as empathy, collaboration, openness, fairness, and sharing; when they start to feel powerful or enjoy a position of privilege, those qualities begin to fade. The powerful are more likely than other people to engage in rude, selfish, and unethical behavior."
After conducting a series of experiments into the phenomenon of how power corrupts, Keltner concluded: "Just the random assignment of power, and all kinds of mischief ensues, and people will become impulsive. They eat more resources than is their fair share. They take more money. People become more unethical. They think unethical behavior is okay if they engage in it. People are more likely to stereotype. They're more likely to stop attending to other people carefully."
The good news
Again, this is all deep speculation, but worth noting regardless. It certainly seems that in the coming days much could be revealed, though many are jaded as to whether or not justice will indeed be served. Despite cynicism of some, it truly does appear that this time around things could play out quite differently. It is also worth mentioning that Epstein was just denied bail, "Mr. Epstein's alleged excessive attraction to sexual conduct with or in the presence of minor girls — which is said to include his soliciting and receiving massages from young girls and young women perhaps as many as four times a day — appears likely to be uncontrollable," Judge Berman wrote in a bail decision. Jeffery Epstein will remain in jail while awaiting his trial as the judge rejected his request to be placed under house arrest. Considering that he was potentially tasked to produce blackmail on countless prominent figures, jail may actually be the safest place for him.
Another positive development comes by way of Filmmaker and journalist Mike Cernovich, who recently stated that "over 2000 files in Jeffrey Epstein Case" are to be "Released Within a Few Days", reporting that the Second Circuit Court of Appeals directed the parties in a case involving Jeffrey Epstein to provide the Court with any final redaction requests they have:

"ORDER, dated 07/17/2019, ordering the parties Virginia L. Giuffre and Ghislaine Maxwell to file one-page letter briefs no later than 07/19/2019 indicating any additional locations in the record that might implicate the privacy interests of the individuals named on page 59, line 25 Exhibit KK of the motion for summary judgment, by JAC, RSP, CFD, FILED.[2610854] [18-2868] [Entered: 07/17/2019 02:23 PM]"

These files are being unsealed as a result of a lawsuit first filed by Cerno Media and later joined by the Miami Herald. Cerno Media sought to unseal over 2,000 records implicating Jeffrey Epstein and his fellow sex traffickers. The lower court ruled against Cerno Media. Cerno Media filed an appeal. While Cerno Media's appeal was pending, the Miami Herald filed its own motion to unseal the records, lost before the same judge as we did, and they appealed.
The Second Circuit Court of Appeals reversed the lower court ruling, ordering the files the be released:
Michael Cernovich, and the Miami Herald Company (with reporter Julie Brown) appeal from certain orders of the United States District Court for the Southern District of New York (Robert W. Sweet, Judge) denying their respective motions to unseal filings in a defamation suit. We conclude that the District Court failed to conduct the requisite particularized review when ordering the sealing of the materials at issue. At the same time, we recognize the potential damage to privacy and reputation that may accompany public disclosure of hard‐fought, sensitive litigation. We therefore clarify the legal tools that district courts should use in safeguarding the integrity of their dockets. Accordingly, we VACATE the District Court's orders entered on November 2, 2016, May 3, 2017, and August 27, 2018, ORDER the unsealing of the summary judgment record as described further herein, and REMAND the cause to the District Court for particularized review of the remaining sealed materials.
Due to scrutiny Cerno Media's lawsuit and the Miami Herald's extensive coverage brought, Epstein was arrested for sex trafficking. As the Second Circuit Court of Appeals wrote, "Cerno Media led the charge on the lawsuit" to unseal the records in the Epstein case:
"On January 19, 2017, Cernovich, an independent blogger and self‐described "popular political journalist," moved to intervene, seeking to unseal the summary judgment record, and Dershowitz joined his motion. On April 6, 2018, after the case had settled, the Herald moved to intervene and unseal the entire docket. The District Court granted each of these motions to intervene, but denied the related requests to unseal in orders entered November 2, 2016, May 3, 2017, and August 27, 2018, respectively. The Appellants timely appealed from each of the orders denying their respective motions to unseal. Although each Appellant seeks the release of a different set of documents, all argue that the District Court failed to analyze the documents individually or properly apply the presumption of public access to court documents. We therefore ordered that the appeal be heard in tandem and held argument on March 6, 2019. On March 11, 2019, we issued an order to show cause why we "should not unseal the summary judgment motion, including any materials filed in connection with this motion, and the District Court's summary judgment decision."8 The parties timely filed their responses."
In regards to what these files will reveal, we can only wait and remain vigilant. This article will be updated accordingly as more details emerge.
[SOURCES]